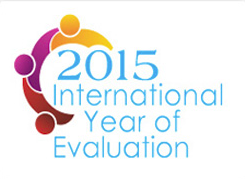 Did you know that 2015 has been declared the International Year of Evaluation? Fondly known as EvalYear, this came about following endorsement at a series of evaluation conferences in 2013 and 2014 and the UN's adoption of a resolution which asks member countries to strengthen their evaluation capacity and, in 2016, report on their progress. 2015 was deemed a suitable year to dedicate to evaluation, partly because there is a bottom-up movement for greater accountability that is leading to new innovations to strengthen and hold policy makers accountable, with an increased push for transparency, accountability, change and justice.
Just like at the Olympics, an Evaluation Torch was lit on 17 December last year in Fiji by highly respected evaluation professionals and will soon be symbolically passed throughout the international evaluation community at a number of events around the world celebrating EvalYear.
The main events
Major evaluation conferences and events will be happening throughout the world in the year ahead. They include conferences in India (January), Egypt (February), Peru and USA (March), Italy and Austria (April), UK and Canada (May), New Zealand (July), Switzerland and Australia (September), Thailand (October), Saudi Arabia (November) and Nepal (November).
A global initiative coordinating local thinking
EvalYear is important because it highlights how important it is that governments, international partners and civil societies know how policies and programs shape the lives of people today and in future generations. Throughout the year, there will be increased dialogue among regional and national evaluation organisations, including UN agencies and the World Bank agencies, developing countries, private foundations and key stakeholders. The aim of the dialogue is to advocate and promote evaluation and evidence-based policy making at international, regional, national and local levels.
Bringing stakeholders together
In EvalYear, diverse stakeholders will be brought together into a movement designed to mobilise the energy and enhance the synergy of existing and new monitoring and evaluation partners. Stakeholders invited to participate will include academia, consultants, governments, civil societies and international partners. Strategic partnerships will hopefully be formed between committed individual and organisations around the world for a coordinated approach to explore and promote evaluation as a catalyst for better planning of human development.
The focus
Four themes have been identified, and will be discussed at each and every conference from the perspective of the host nation:
Identifying the key future priorities for the global evaluation community;
Bridging the gap between the evaluation community and policy makers;
Creating main stream equity-focused and gender responsive evaluations with sustainable development goals at international level; and
Developing equity-focused and gender responsive national evaluation policies.
Why it matters
A fast-growing and emerging sector of the evaluation industry is international development. A growing number of evaluation work is being commissioned in the area of disaster relief and prevention, poverty, illiteracy, prejudice and discrimination, conflict, violent crime, and drug and alcohol abuse. This International Year of Evaluation will provide great opportunities for the sharing of information, as well as discussion of new and emerging practices in evaluation, that can particularly be applied in developing countries, but also in communities within Australia that may be impacted by any of these issues.
So, please allow me to wish you a very happy International Year of Evaluation to you and yours.
Back to All Posts