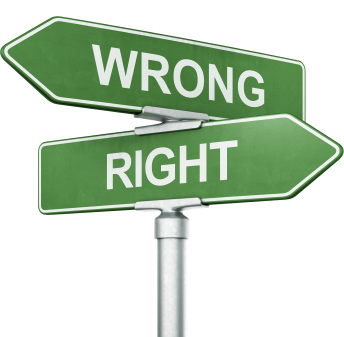 Market research ethics refer to the moral guidelines or principles that govern the conduct of behaviour in the marketing research industry. Ethics is particularly important in marketing research. As a member of the Australian Market and Social Research Society (AMSRS), and the Australasian Evaluation Society (AES), I am committed to adhering to a moral framework set out by these two key governing bodies. Their codes of professional behaviour can be found here and here.
Ethics in our line of work relate to a number of factors including:
1. Goodwill
The goodwill of the individual respondents/ subjects for their willingness to volunteer information on their awareness, attitudes and behaviours. Any practice that erodes that goodwill makes future marketing and evaluation projects more difficult to undertake.
2. Trust
When we conduct interviews or surveys we are being trusted by our clients to provide accurate and reliable information that has been collected in a professional way.
I once had a respondent to a workplace satisfaction survey ask me how he could be guaranteed that I would not sift through online survey findings to look for his individual response, or to ascertain which were his responses by careful and considerable analysis and deduction. After explaining how I would consider this to be professionally unethical, not to mention impossible, and of no interest to me or the project whatsoever, the thing that convinced him was that I said he would just have to trust me.
3. Professionalism
If respondents are to answer surveys and interviews in a serious and thoughtful manner, they have to feel that the research is going to be used in a professional manner.
4. Confidentiality
Respondents are more willing to express their views and opinions if they know that they will not be identified individually against their responses. It is important to assure respondents that the information they provide us for the purpose of the evaluation or research project will be handled confidentially.
There are a number of other aspects to conducting evaluations and market research in an ethical manner. But these four areas of ethical considerations are important for you to keep in mind if you are considering commissioning a project and wish to do so according to recognised professional standards.
Back to All Posts