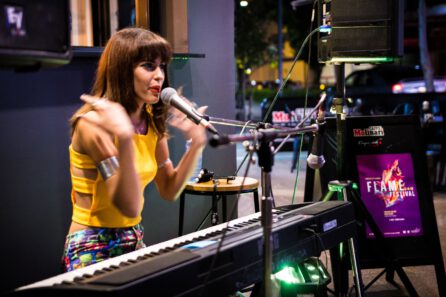 The Australian live music industry was the first sector to be significantly impacted by COVID-19, when non-essential gatherings were banned in March. Eight months on, restrictions in Australia have eased and the live music industry is in recovery mode.
At this significant time of rebuilding and recovery, targeted and tailored creative initiatives are more important than ever. The Western Sydney and Regional NSW Live and Local Strategic Initiative is a program I was fortunate to have evaluated in its pilot form in 2018. Funded by Create NSW on behalf of the State Government and managed in partnership by the Live Music Officer, Live and Local was a program response to the music industry's dissatisfaction with how publicly-funded live music events took place. The program was designed to provide local councils the opportunity to develop bespoke local music events in their Local Government area over 2017/18 based on the Live and Local micro-festival event model.
The rollout of this program could not have been more timely. Not only did it respond to an identified need at the time for greater support of the live music sector, its establishment a few years ago meant that systems are now in place for it to make an important contribution to the live music industry's recovery from the impacts of the pandemic.
Live and Local involved the delivery of music events across all 18 local government areas in Western Sydney and some areas of regional NSW. The program engaged 1,359 artists who delivered 583 acts across 35 business types and attracted an audience of close to 54,000 people. A key features of the program was the activation of non-traditional spaces. Music events were delivered in bookshops, a bowling alley, florist, cycling shop, furniture store, museum, landscaping business and even a tattoo parlour!
Strengths of Live and Local
There were a number of clear strengths of this initiative, including:
Local councils were supported to provide sustainable, local specific music-based events, often for the first time;
Paid work was provided for 1,359 musicians, some of whom have gained ongoing work through their local council;
Councils were provided with a positive platform upon which to rebuild positive relationships with local businesses and communities;
The Initiative acted as a catalyst for wide-ranging policy and strategy discussions with council, building connectivity with State and Local Government; and
The model was flexible enough to be able to be scaled up or down in response to local situations.
The benefits of the Live and Local program have become acute as the music industry looks to a post COVID-19 recovery. This was recognised by the Australian Government during the pandemic, as, in May 2020, the Live Music Office was successful in securing further funding from Australian Council for the Arts to continue and expand the program. You can read the details here.
Then, November brought the biggest overhaul of regulations around live music and cultural activity in NSW in a generation. The Legislative Council of the NSW Parliament passed coordinated changes to the Liquor Act, Planning Act, Local Government Act, the Building Code as well as emergency COVID-19 placemaking for food, drink and entertainment activation. These changes further support small businesses, live music and cultural venues to get back up on their feet following the lifting of COVID-19 restrictions. All of this gives councils the ability to unlock the potential for local economic areas and drive economic recovery as the nation recovers. It also provides paid work for musicians, which has been limited for much of this year.
Live and Local has been successful and timely. It demonstrates that the combination of good program design, efficient administration and sustained funding can provide significant positive outcomes and the foundation for industry support when emerging from tough times.

*Images supplied by Live Music Office
Back to All Posts