In recent years Australia has experienced some its worst natural disasters on public record. These included the Black Saturday Bushfires in Victoria in 2009, Cyclone Yasi and floods in Queensland in early 2011. Following these natural disasters, new models of support were trialled to help rebuild disaster-affected communities by using arts-led and creative activities. I conducted evaluations of the Arts Victoria initiative and the Arts Queensland/Australia Council for the Arts initiative, and deemed them to be successful in achieving their intended objectives.
Yet, in conversations with people who are not familiar with this sort of work, I have found there to be one common misunderstanding about the role of the arts in the disaster recovery process.  There is a perception that:
The role of the arts in disaster recovery is simply about cheering people up and providing a short-term distraction through entertainment.
Arts-led pursuits can provide entertainment and joy when people are facing difficult challenges rebuilding their lives. But the arts engender so much more than that and can contribute to long-term outcomes of recovery and rebuilding of communities.
Creative projects which respond to an issue, such as the impact of a disaster – or community transition as a result of some other catalyst such as regional or urban renewal – can be many and varied.  They can include things that encourage people to reflect on how their community has changed. The types of activities can include photographic exhibitions, sculpture, painting, craft, film-making, singing, dance, poetry, literature and multi-media.  The most enduring projects are those that engage individuals and communities in a process of collaboration, interpretation, reflection and commemoration. They are designed by the community for the community and respond to the particular issues being experienced by the affected communities.
How can the arts achieve more than entertainment and distraction following a natural disaster?
Following a disaster, creative and arts-led projects can make a difference on so many levels.  The role of the arts in disaster recovery can include:
– Providing a way for people to reflect and commemorate on how their community has changed and how it may be redefined;
– Helping people within communities reconnect and break down barriers of social isolation;
– Encouraging people to share stories and capture important moments in history for generations to come;
– Helping people express their feelings of loss, grief and hope; and
– Giving people a sense of normality when things around them seem out of their control.
Examples of arts-led projects used in disaster recovery in Australia
There were 47 creative projects funded by Arts Victoria as part of their creative response to the Black Saturday bushfires; 25 varied projects were part of Arts Queensland's/Australia Council's Creative Recovery Pilot Project. The projects were only funded if they were to contribute to community rebuilding and not just benefit the grant recipient or aim to entertain. Some examples included:
Pans on Fire. A local community member built a set of steel pan instruments to encourage bushfire-affected communities in Marysville to learn to play as a form of respite. New social networks were formed and the social support helped participants and their families to deal with the disaster. An initial band of 22 local members was formed who met and rehearsed weekly and this has continued to grow. The group continues to perform throughout Victoria.
The Tree Project. Blacksmiths worldwide contributed to the growth of a metal tree by casting gum leaves from stainless steel and copper.  The tree was created as a memorial to remember the people who were lost, the tireless work of the firefighters, relief workers and the people recovering and rebuilding their communities. It involved participation of local blacksmiths in its creation.
Strathewen Letterbox Project.  A group of 30 local women created mosaic letterboxes to be presented to residents affected by the bushfires.  Weekly mosaic workshops became an important routine for participants who took comfort in being with others who had shared the same traumatic experience. The 60 letterboxes marked where new houses were being built, and the official launch attracted 400 people.
Kyneton Mural Project.  (Art From The Extended Region).  A public mural created from pieces of ceramics salvaged from fire-damaged or destroyed homes throughout the region.  The mural enabled people to contribute their memories through their involvement.  It has become an important place of commemoration in the region.
Girringun Resilience Project.  A project created on the Cassowary Coast that involved the documentation of stories and photographs of Indigenous elders about their culture and experience living through Cyclone Yasi.
Splashing About in Our Catchment.  A creative education program designed to help primary school students in Queensland's Lockyer Valley overcome their fear of rain and ultimately reduce the growing rate of absenteeism in schools on wet days.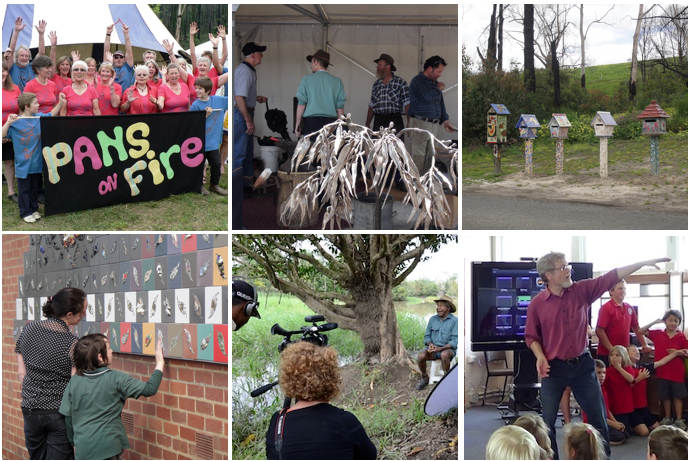 Top: Pans on Fire, The Tree Project, Strathewen Letterbox Project
Bottom: Kyneton Mural (Art From The Extended Region), Girringun Resilience Project, Splashing About in our Catchment.
There are many other examples like these that dispel the commonly-held myth about the role of the arts in disaster recovery.  There is a growing body of evidence that highlights the benefits of the arts to personal and community wellbeing, particularly after a time of upheaval such as a natural disaster.  There is always going to be a place for the arts to entertain and distract.  But the long-term benefits come about because of so much more.
Back to All Posts