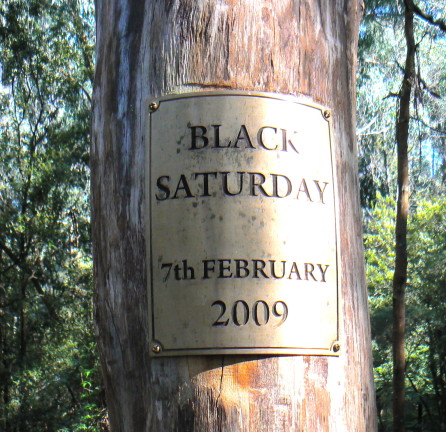 We are experiencing an increased incidence of natural disasters in Australia, and the rate of extreme weather events is set to rise over the coming years and decades.  Within the first two months of 2013 we have seen bushfires in Tasmania, Victoria and NSW, and floods in Queensland.  The devastating impact of Victoria's Black Saturday bushfires in 2009 remains fresh in many of our minds, along with the 2011 floods and Cyclone Yasi in Queensland.
Recovery from disaster can be a long and complex process.  The damage bill from the recent Queensland floods is likely to cost the Federal Government hundreds of millions of dollars.  And that is just to replace and repair infrastructure.  How do you measure the value of recovery and the rebuilding of community spirit?   Arts-led creative recovery projects use the arts and culture to positively and creatively engage individuals and communities as part of recovery, rebuilding and renewal following a disaster.
Introducing creative arts-led recovery projects in disaster-affected communities does not involve simply bringing a band into town, or encouraging people to participate in a sing-along to cheer them up.  It is not about ignoring the monumental challenges of rebuilding homes, getting essential services reconnected and securing a roof over the heads of community members.  Arts-led projects can be a powerful tool as part of the recovery process, when the basic essentials of food and shelter have been secured and communities are scrabbling to try to reconnect, reflect on what has happened, and express what they have been through in ways that sometimes words cannot do alone.
The arts can be effective in disaster recovery by:
Providing an opportunity for reflection and commemoration;
Building new communities;
Reconnecting old communities;
Reducing feelings of isolation;
Helping people develop new personal and creative skills;
Strengthening people's connection to place;  and
Creating and shared sense of hope and optimism.
Arts-led projects may take one of many forms. They may include creating memorials, story telling, music, writing, theatre and dance, craft, photography, sculpture, photography and multi-media.  Creative projects are most successful when they are designed by the communities involved and when they respond to an issue, such as the need for young people to reconnect, or for the creation of a central memorial in which people can gather and share their stories.  They should be part of the recovery process, rather than simply aiming to produce an artistic outcome or product.
Some examples of how the arts have placed a major role in the rebuilding of communities following natural disasters in Australia in recent years have included:
A Steel Pan Band in Marysville, Victoria, following the Black Saturday bushfires in 2009, which gave local community members a reason to meet weekly, learn new skills and form new social networks;
The Strathewen Letterbox Project in Victoria, in which 30 local women created mosaic letterboxes to be presented to residents affected by the Black Saturday bushfires and marked where new houses were being built in the town;
Girringun Resilience Project, designed to explore and communicate Indigenous wisdom and understanding of preparedness for natural disasters through visual media following Cyclone Yasi in Queensland in 2011;
Art from the Extended Region in Redesdale, Victoria, whereby a mosaic artist worked with the community to create an 11 metre long mural comprising objects salvaged from homes that were damaged or lost in the Black Saturday bushfires. The murial has become a local memorial for the community to honour those who lost their lives or possessions; and
The Palace Hostel in Childers, Queensland, following a fire in 2002, in which 15 backpackers died, whereby the council re-opened the building as a memorial.
The power of the arts in disaster recovery has been seen to be significant in Australia in recent years.  Only now are the arts starting to become embedded in the government and human services disaster recovery processes, alongside other essential emergency services procedures.  This sort of continued approach will change the face of disaster recovery and preparedness, as well as the role of the arts sector and their impact on communities across Australia.
Back to All Posts