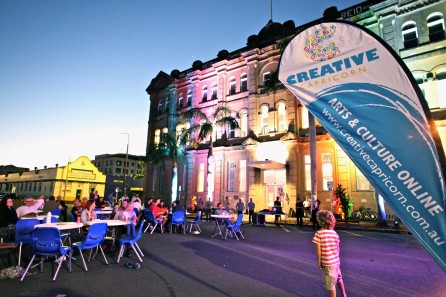 Have you been to Rockhampton lately? The beef capital of Australia is going through a period of artistic and cultural change. And that's no bull.
But don't get me wrong. When you arrive at the airport don't expect to have your portrait painted as you wait at the luggage carousel. You are unlikely to be serenaded as you dine out on your steak diane. Nor should you expect to see weekly street parades. What is happening is more subtle and more meaningful; designed to reflect the history and cultural heritage of the city.
Rockhampton's transition can be attributed to the three-year cultural program, Creative Capricorn – jointly funded by Australia Council for the Arts, Arts Queensland and Rockhampton Regional Council. Currently at its midway point, the initiative aims to improve the quality of life for the community by integrating arts and culture into economic, social and community planning.
Last weekend five significant sites in Rockhampton were transformed to promote the local heritage of Rockhampton through the arts in an open-day weekend. Across the five sites people were offered poetry, dance, film, music, sculpture, visual arts, food and entertainment.  Here is what happened at each site.
Botanic Gardens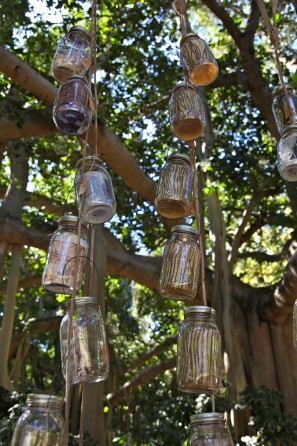 Capricornia Printmakers Collective created an installation behind the Gardens Tearoom to mimic the shapes of the enormous banyan trees through columns of artistic preserves.  There was also poetry by Kristin Hannaford and music by CQUniversity Conservatorium.
The Mater Hospital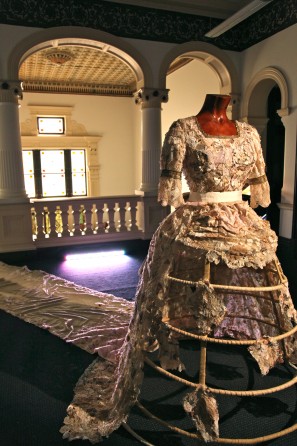 The old Kenmore House building tells the story of class and separation in Victorian times through sculpture. The downstairs space tells of workers who were often enslaved labourers on site. The upstairs reflects the high society and pastoral wealth. The staircase, which supported a 23 metre dress train designed by fabric/textile artist Julie Thornton and sculptor Brendan Tohill, linked the two levels. There was also poetry by Paul Summers and Kristin Hannaford.
Toonooba Park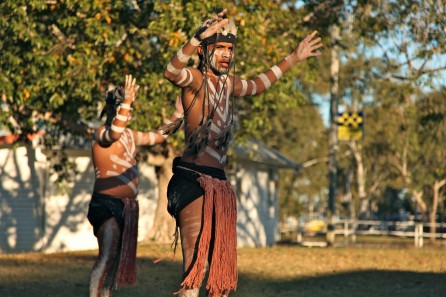 Toonooba Park is the Durambal name for the Fitzroy River, the mighty river running through the middle of Rockhampton. A new work representing the ebb and flow of the river in flood and a symbol of Darambal Country was launched by local organisation Capricornia Arts Mob, supported by Indigenous dance displays.
Anderson's City Printing Works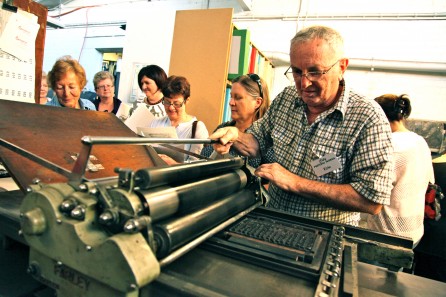 This Rockhampton icon houses almost the entire post-colonial heritage and history of Rockhampton, having been here for more than 100 years. Visitors were invited to tour the building, including the original letterpress printers and shop. The historic printmaking process was demonstrated by Derek Lamb of Officina Athelsane.  A huge installation of the wood type and the old advertising blocks were on display. Installation and curation was by Ken Leslie and poetry by Kristin Hannaford and Paul Summers.
Water Reid Cultural Centre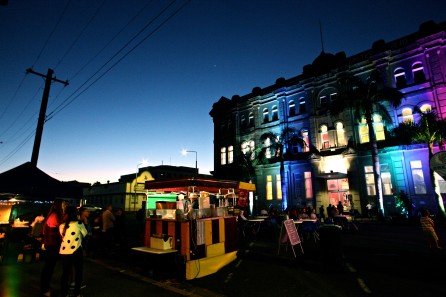 Built in 1902, this building has long maintained a dominating, yet transformative presence in the landscape of Rockhampton. Originally used as a warehouse for retailers and wholesalers and then having gone through periods of neglect and refurbishment, the Centre is again being transformed by Curator in Residence Caroline Huf. Its transformation is supported by Rockhampton Regional Council and other artists in residence. On the open-day weekend creative outdoor spaces were introduced with music and food, there were poetry readings, film screenings and the street was closed to traffic for the Walter Reid Block Party.  With the Creative Capricorn producers based in the Walter Reid Cultural Centre, this building has become the heart and soul of artistic activities in the region.
Creative Capricorn is already transforming Rockhampton.  So far, 55 artists have showcased their work, more than 10 major projects have been commissioned and 92 artists have participated in skills development workshops.  I know this because NSF Consulting has been commissioned by Arts Queensland to evaluate the program.  I am tracking its progress over the three year period. Although it is too early to pre-empt the definitive findings of this evaluation, if the interim outcomes and community buzz of anticipation are anything to go by, we're in for arty times ahead in Central Queensland. Even the cows are mooing with excitement.
Photos by Tom Hearn, Bush TV
Back to All Posts