Working as a social research and evaluation consultant, there are lots of people to interview, data to gather and information to analyse.  What makes us experts in our field is not the amount of legwork that we do, but rather, the set of operating principles we work under.   When we talk about  'best practice' research techniques in our industry, one aspect of that is the framework we use when interviewing people; the guiding principles that are well known, and proven for their effectiveness.  They are techniques that allow us to problem solve, gather robust and meaningful data from people and inform the answers that been put to us in our client's brief.
I would like to share some of these guiding principles with you.
Don't bring any assumptions to the project
As a social research consultant, it's our responsibility to find out what's going on rather than to be invested in a particular outcome.  We should approach a project with an open mind; we should ask open-ended questions that allow people to present ideas or opinions in a way that we may not have expected.  We should not go in with our own expectations.  We must be open to learn new things from what people tell us and be curious to really understand them.
It is also important not to approach people with assumptions about whether they are going to be likely or willing to participate in the research.  In recent evaluation projects I have conducted that involved interviewing people who had experienced recent trauma through natural disaster,  my clients' and my own assumptions were challenged.  We expected these people may not be ready to talk about their experiences or to give us much time.  Everyone we approached was grateful to be asked for interview and they felt it was important to contribute to the project.  It gave them a sense of community and belonging.
Be open to how others see the world
In my experience as an evaluation consultant I have learnt that it is imperative to be ready to hear my respondents' opinion on things, no matter how much it challenges my own world view.  This can be difficult when people say things that challenge my own sense of morality or my ethical framework.  There have been many times I have interviewed people who have expressed views that I have found to be personally abominable, yet I am not there to judge.  I am there to learn about them and to leave my own world view at the door.
Go to where the people are
To embrace other people's worlds you have to go to where they are, rather than ask them to come to you.  Inviting them to a research room, particularly one that is not near where they live, is not going to work.  It is important to be in their environment; that is the environment I am interested in.   I have just completed a series of focus groups amongst local residents in Blacktown, in Sydney's outer west.  We recruited these people for focus groups from a major local event in a nearby major park and conducted the groups in a local sporting group's clubhouse, in the home of a local resident, and at the local library.    The whole approach worked wonderfully.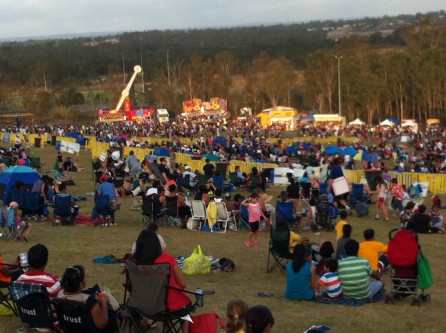 Large local public events can be ideal for recruiting people for interview
Use active listening
When interviewing people, conversations can take turns you don't expect.  You need to be open to this happening, and it is important to stay on the ball, quickly absorb what they are saying and then ask follow up questions that are appropriate if you wish to explore that line of thinking further.  This also involves asking questions that you already know the answer to.  Although it may seem unnatural to do so, this again relates to the importance of not being confident with your own assumptions.  Interesting and unexpected things can emerge when you ask these questions.
Back to All Posts