For alm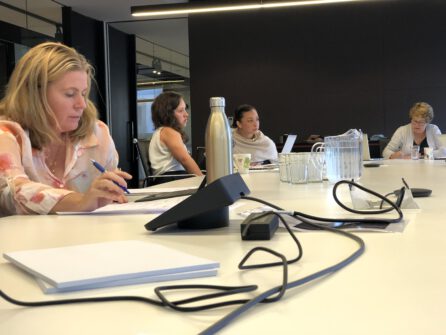 ost 20 years, my evaluation work has taken me to regional and remote Australia, researching and evaluating arts, disaster recovery and community building projects. In 2018 I researched and wrote an important guidelines document for Regional Arts Australia: Collaborating with Regional Communities. This publication was designed to assist those working in regional communities achieve a more rewarding level of involvement in cultural activities.
In all of my work I offer strategic advice and support for the delivery of successful and sustainable cultural projects in regional Australia.
But now I'm having to practise what I preach
For as long as I have been running my evaluation consulting practice, I have been operating a parallel creative arts practice, Artweave Originals. I juggle the two businesses in response to demands and opportunities from each of them at any given time and I enjoy the balance and variety. The two businesses had never intersected… until now.
This year I was a successful grant recipient of Create NSW within their Arts and Cultural Funding Program – 20/21 Individual/Group Funding Round 2. My grant will fund me to deliver a community arts project in regional NSW, commencing next week. As an artist I will need to work according to the best practice principles on which I've judged my clients' projects from the perspective of evaluator. I will have the chance to bring a number of my consulting skills the project, including community consultation, research, and evaluation, as well as an appreciation of what successful regional projects should look like.
The project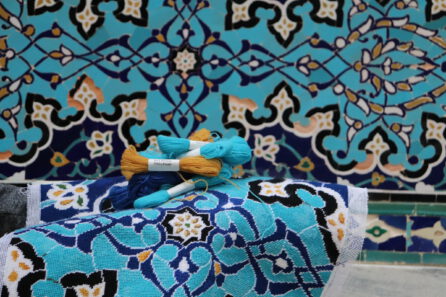 Silk Inroads is a community arts project, to be delivered in Wagga Wagga, NSW; a regional city located about five hours' drive from Sydney. Wagga Wagga is a diverse and extensive multicultural community, home to people with heritage from a number of countries along the Silk Road, including Iran, Iraq, Afghanistan, China and Pakistan.
My collaborative community project will explore the visual heritage of the ancient Silk Road and how its architectural motifs can be interpreted in contemporary needlepoint. There will be needlepoint workshops, lectures and discussions. I will work with participants to create pieces for group exhibition at the Wagga Wagga Art Gallery in March, 2022, then touring to Sydney for exhibition at the Embroiderers' Guild in June.
When preparing my application proposal, it was satisfying to consult Collaborating with Regional Communities, as it proved to be a helpful refresher tool for planning a successful regional project. Here is what I was reminded of:
The importance of consultation and collaboration
Before delivering a regional project, it is important to spend time in the community consulting with key community groups to ensure that my project will be culturally appropriate. It's the antithesis of the fly-in-fly-out model of delivery, which can leave communities feeling sidelined and exploited. And because my project involves working with diverse language and cultural groups, it will be important to heed advice from the Multicultural Council of Wagga Wagga regarding cultural protocols and utilising translation services if required.
I'm also looking forward to collaborating with Eastern Riverina Arts, Wagga Wagga City Council, and academic Dr Sam Bowker, Senior Lecturer in Art History and Visual Culture at Charles Sturt University, Wagga Wagga. All of these partnerships will be important for the success of this project.
Setting up for sound evaluation
I will need to demonstrate to Create NSW how I intend to measure success of my project. Like all evaluation approaches, this is about determining criteria of merit (the aspects of the project that are important to its success) and determining targets, or key performance indicators. Among other things, I intend to conduct pre-test and post-test surveys with participants to track how they may have changed over time due to their participation in the project.
Let's get this project started
This weekend I will be heading to Wagga Wagga to host drop-in information and consultation sessions. They will be programmed alongside existing cultural events at the Wagga Wagga Art Gallery that relate to my project, with potential for shared audiences and participation between all events. The aim of the sessions will be to shape the project with the community and collect registrations of interested participants.
If you're in the region, come and meet me on Saturday 23rd or Sunday 24th October between 12.30pm and 2.00pm at the E3 art space, Wagga Wagga Art Gallery, Corner Baylis and Morrow Streets.
Wish me luck in practising what I preach as I aim to deliver Silk Inroads according to best practice regional arts principles.
Back to All Posts