Ar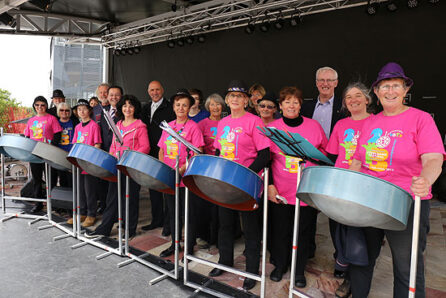 t and culture have always been important in connecting and consoling us in times of disaster. The COVID-19 pandemic acted as a timely reminder of this, as, during lockdowns around the world, people watched and participated in online choirs, orchestral concerts, film screenings and talks.
Australia has just entered its annual bushfire season. This time last year in Australia we were living through our longest and most devastating bushfire season we've experienced. Mercifully, this summer's bushfire risk is predicted to be considerably lower. However, rainfall is likely to be above average across much of south east Australia, which increases in the likelihood of flood events.
As we emerge from lockdown in Australia and enter our potentially volatile summer season, it's a good time to revisit some case studies in which the arts were successfully used to help rebuild communities following natural disasters.
A Steel Pan Band 'Pans on Fire' (pictured) was formed in Marysville, Victoria, following the Black Saturday bushfires in 2009. This group gave local community members a reason to meet weekly, learn new skills and form new social networks. Since then, six steelpan bands have been established in the region, who continued to rehearse online during the COVID-19 lockdowns
Following the 2011 floods in Queensland's Lockyer Valley, a creative collaborative education project successfully helped children overcome their fear of rain
The Strathewen Letterbox Project in Victoria was another project funded after Black Saturday. It involved 30 local women who came together to create mosaic letterboxes to present to residents impacted by the fires and marked where new houses were being built in the town
The Girringun Resilience Project used digital media to explore and communicate Indigenous wisdom and understanding of preparedness for natural disasters following Cyclone Yasi in Queensland in 2011
Art from the Extended Region was a community mural project in regional Victoria following Black Saturday. It was led by a mosaic artist who worked with the community to create an 11 metre long mural comprising objects salvaged from homes that were damaged or lost in the Black Saturday bushfires. The mural has since become a local memorial for the community to honour those who lost their lives or possessions
Following a devastating fire in 2002 at The Palace Hostel in Childers, Queensland, the building was redeveloped as a memorial to the disaster.
I became well acquainted with these and many other disaster recovery projects during my evaluation of the Black Saturday Quick Response Grants initiative for the Victorian State Government in 2011 and my evaluation of the Creative Recovery Project for the Queensland State Government in 2012.
As we've seen or experienced during COVID-19 lockdowns, art and culture bring us closer together than ever before. There is plenty of evidence now to show that the arts have an important role to play in contributing to disaster or pandemic recovery. Federal and state governments in Australia have come to realise this, but it is important that the arts continue to be written into local government recovery plans, that their benefits continue to be communicated, and strong links continue to be established between the arts and the emergency services sector.
Let's all hope for a calm and safe summer season in Australia, with the comfort that arts and culture can always be drawn on to play an important role to sustain and connect us through—and beyond—difficult times.
Back to All Posts